Harlow Hills Farm
About Us
Who We Are
Greg and Kristina didn't grow up on farms but always dreamed of owning property. Together in 2003 we made that dream a reality. Since then we have been working steadily toward a productive vineyard and delicious wine, a dairy goat herd that is more than just a hobby and a way to share this beautiful land with friends and family. Our third major project, our son Tyler, came along in 2006 and has been growing right along with the farm, learning the ropes as he goes. In the winter of 2016, we added four acres of Oregon Hazelnuts to our mix of agricultural endeavors.
More to come later!
Our Goat Dairy | Our Vineyard Story | Event Hosting | Agro-Tourism

Greg: Grew up in what used to be the small town of Lake Oswego and enjoyed exploring the "wilderness" that started immediately across the street. At that time, there were no houses above Park Road and there were plenty of acres of woods and meadows to explore. He graduated from Oregon State University with a BS in Electrical Engineering and eventually formed his own company that manufactured radio communications systems for city and federal governmental sites. .
He is now trading his Electrical Engineering work for Ag Engineering, being the 'head' grape herder for our vineyard as well as the 'assistant' herder and maintenance branch for the dairy operation. He enjoys being able to once again roam and explore the open woods and meadows with Kristina and son Tyler.

Kristina: Graduated from Cal Poly with a BS in Animal Science in 1995 and went on to work in the Veterinary industry as a LVT for many years. After marrying Greg and moving to the Gaston property she retired from the veterinary practice and had our wonderful son Tyler. She now combines her years of animal experience, love of science and desire to produce a real product in the dairy. As an extension of Kristina's love of goats she also volunteers time to the NW Oregon Dairy Goat Association and is currently serving as President of the club. She also loves to garden, preserve food and work with husband Greg and son Tyler in the many aspects of farm life.

Tyler: Born here in 2006 (literally), he has been enjoying his 80 acre playground from day one. It is a great place for a child to grow up and learn about life. In 2011, he had a year off of school between pre-school and kindergarten, so he spent the winter trapping Gophers and Moles at Plum Hill vineyard. It was a great early experience in business. He trapped over 100 of the little critters! Tyler also loves duck hunting and fishing with his father and grand father. Over the last year his mechanical aptitude has really shown itself in deep well pump testing and repair. So continues his apprenticeship on the farm.
Our Goat Dairy
Now what about those blackberry plants?
We are both conscience of taking good care of the land so it will be there for future generations, so when it came to taking down the acres of blackberries, just continually spraying with chemicals was not an option. Mowing them year after year was also unpalatable, but we remembered that goats love to chomp on blackberries, so we bought our first three goats in 2004 to start the task and immediately added two more. We were starting to rub elbows with the caprine (goating) crowd and somewhere in the process, a light went on in Kristina's having to do with goats and her animal science experience and the words "goat dairy" were first uttered (or is that uddered?).
The dairy building was originally built in the early 1950's as a grade "A" cow dairy. The parlor was set up with 3 stanchions in a saw tooth configuration, this allowed cows to come in and go out individually rather than in groups. It was the fastest design of its day and the owners at the time milked over 100 cows twice a day.
We now have a roomy parlor with stanchion to hold 6 goats. The goats come in one door and go out another door so as to keep things flowing. More about the dairy:
Evolution of a Vineyard from Dream to Reality:
The idea of a vineyard was born in October of 2004 after a good bottle of wine, a couple steaks, and watching a 1993 movie adaptation of Shakespeare's "Much Ado about Nothing.". The opening scenes of the movie are set in Tuscany and Villa di Vignamaggio, Italy and have some beautiful vineyard shots. We had always loved the look and feel of a vineyard and now just had to have one.

We literally had no idea what we were doing or getting ourselves in to.
We bought a book on Oregon Viticulture and Greg called around to find plants. We quickly learned that grape plants are ordered a year ahead of planting, but we still were hell bent on getting started the next spring, so we ended up with what we could get our hands on. We thought we had procured just what we needed until a large winery in the area exercised an option to buy additional plants from our supplier. Thus our first two acre Pinot Gris block consisted of three different Pinot Gris clones grown on two different rootstocks, from three different suppliers that were planted in three separate plantings in 2005. We became more organized after that and ordered plants well ahead of time.

Trellising, pruning, spraying and harvest took a bit longer to perfect … Greg enrolled in vineyard management classes at Chemeketa College, so now we are much more organized in the vineyard. All eight acres of our vineyard has been planted with the help of friends and family at what we affectionately call "Planting Parties." We are blessed with truly great friends all the way around, most of them coming back again and again!
Our oldest plants are now eleven years old and are producing some great wine. We have sold to a number of wineries in the area large and small, and we are gently backing into the wine making end of the business with the help of some of our wine making friends. We host a yearly Harvest Party just prior to taking the grapes off the plants so that those wonderful people can literally come and enjoy the fruits of their labor, as we certainly have some wine made from those same grapes in previous years on hand to enjoy.
Event Hosting
We are looking forward to hosting outside events and are putting the final infrastructure in place so that people can come enjoy the vineyard experience. Please contact us with any questions and check back as we update information
Agro-tourism: A year-long experience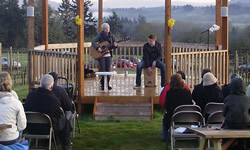 Easter Sunday Services
Pastor Dale Phipps with Real Life Christian Church has held a couple sunrise services at Harlow Hills Farms.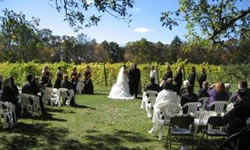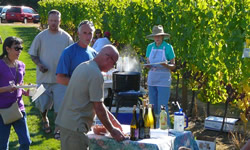 Grape Harvest Parties
Prior to the grape harvest we try to host a potluck get-together for friends and family. We provide pit roasted pork, fresh corn on the cob and wine from our own vineyard as well as the wineries we sell grapes to.